Robin and I had a spare Saturday, and we fancied a bit of Caving.  We met at Inglesport Cafe for breakfast before driving to the old quarry car park just after White Scar cave.  At about 10am, (after getting changed) we slowly made our way up the side of Ingleborough (it's steep and tough going in full SRT gear).  Using the OSMaps app on my phone for directional assistance we found the entrance by about 11am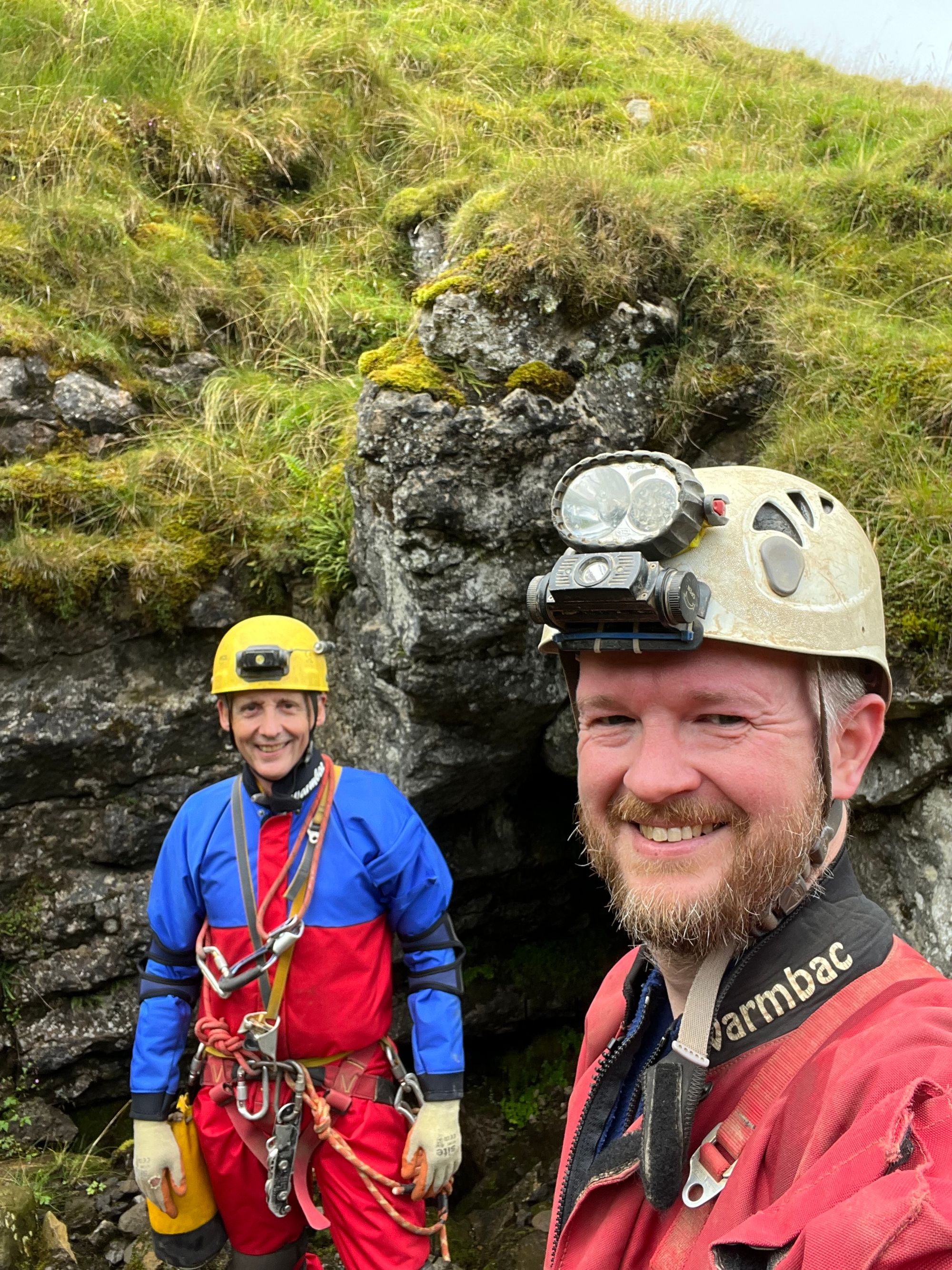 As I had the bag with the rope for the first 2 pitches I led the way.  Shortly after entering I found a spot to wet my ropes, we didn't wet the ones Robin was carrying until later to keep his bag as light as possible.
We soon came across the 1st little pitch.  Barely a pitch, requiring only a 10m rope, but required as it's not climbable.  Following about a 10 minute cave we came across the 2nd pitch.  The 46m rope we had just making it to the bottom.  The CNCC rigging guide shows 45m so absolutely spot on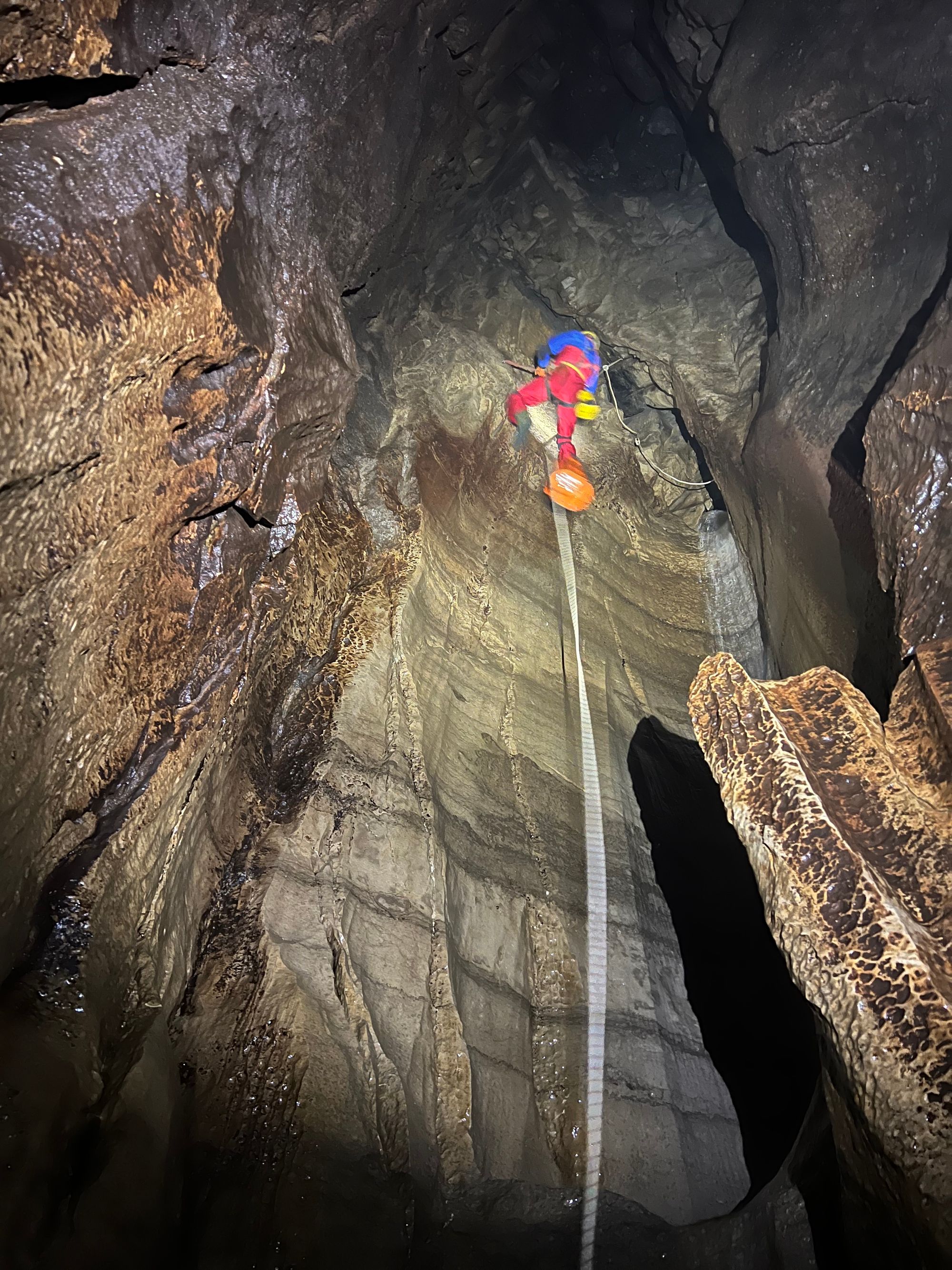 Robin now took the lead to journey along the diagonal rift where some good caving happens, at a few spots requiring hands/knees crawling and manipulation to get past constrictions, often with stalactites and calcite flows to look at
We eventually arrived at the 3rd pitch, which gave me some time to take some pictures.  I'd decided to take my new (ish) iPhone 13 Pro to the entrance with the intention of leaving it at the entrance should I need to contact emergency services, but decided to risk taking it underground for the photo opportunities.  It had gone on a previous trip (Gaping Ghyll) and I was very impressed by it's low-light images.  I kept the phone in my caving suit's chest pocket, with my survival bag (also kept in the same pocket) on the outside as a protective buffer which so far (touch wood!) has worked well.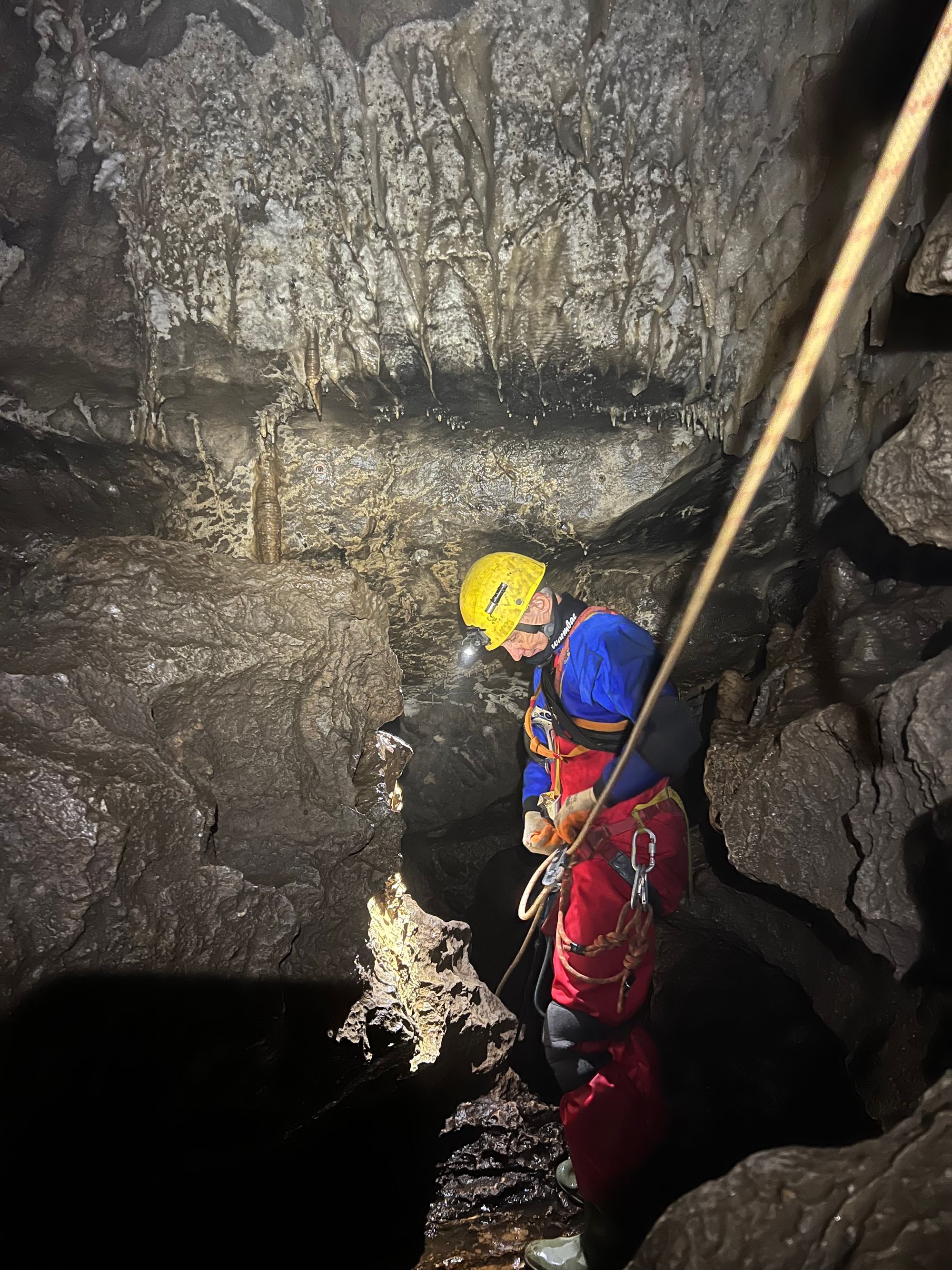 Mid-way down the 3rd pitch it changes to a ~60degree ramp which the water follows.  We continued (mostly sliding) down on our descenders to the bottom.
The way on continues a short way until the only way on is through a small opening at the water level which in higher water would be a full submersion (a duck).  We both made it without getting our heads wet
With the duck passed we caved on past more stunning formations.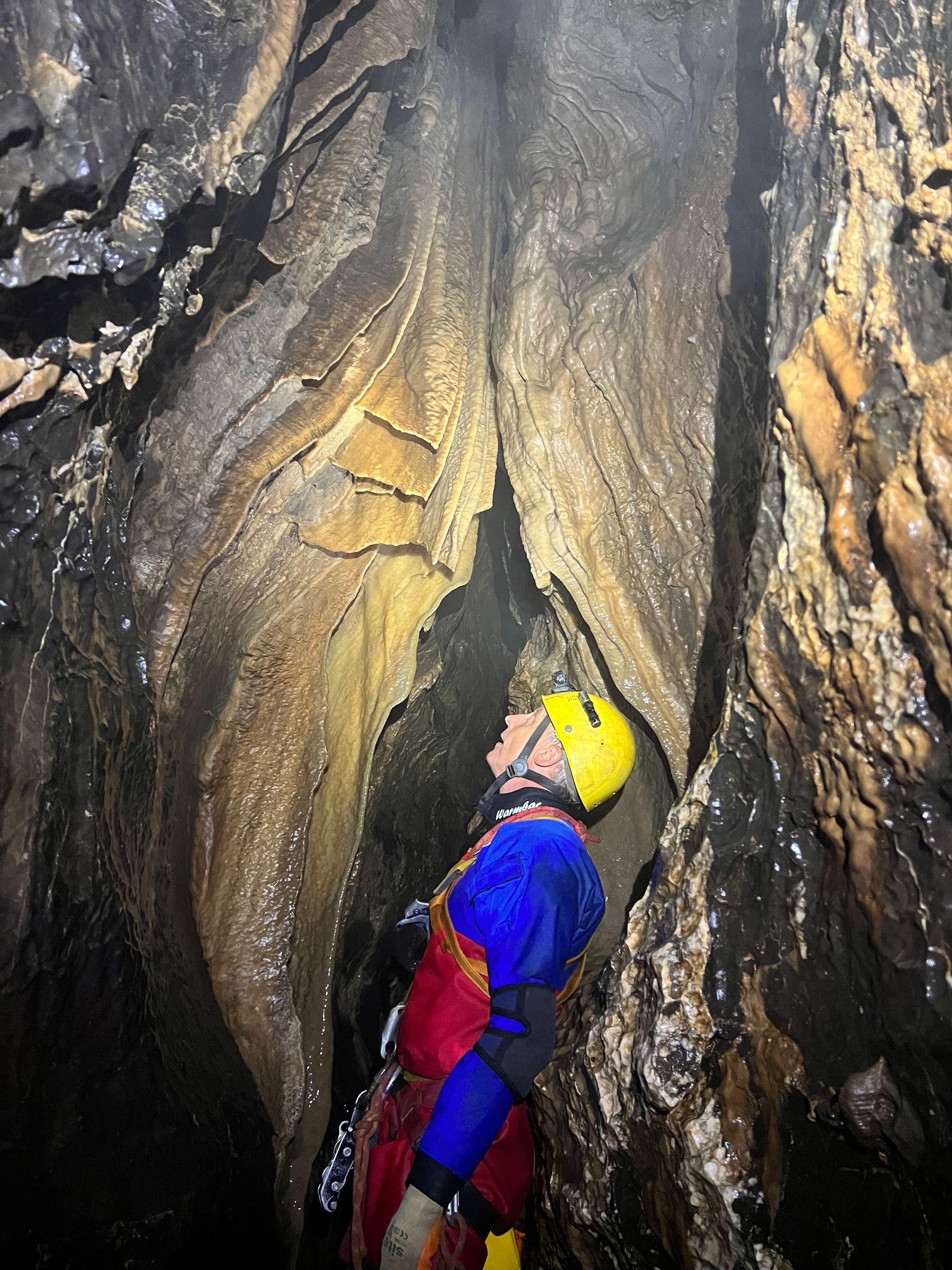 Robin rigged the final pitch to reach the bottom.  We left our personal kit bags to go to the sump see how far we could get.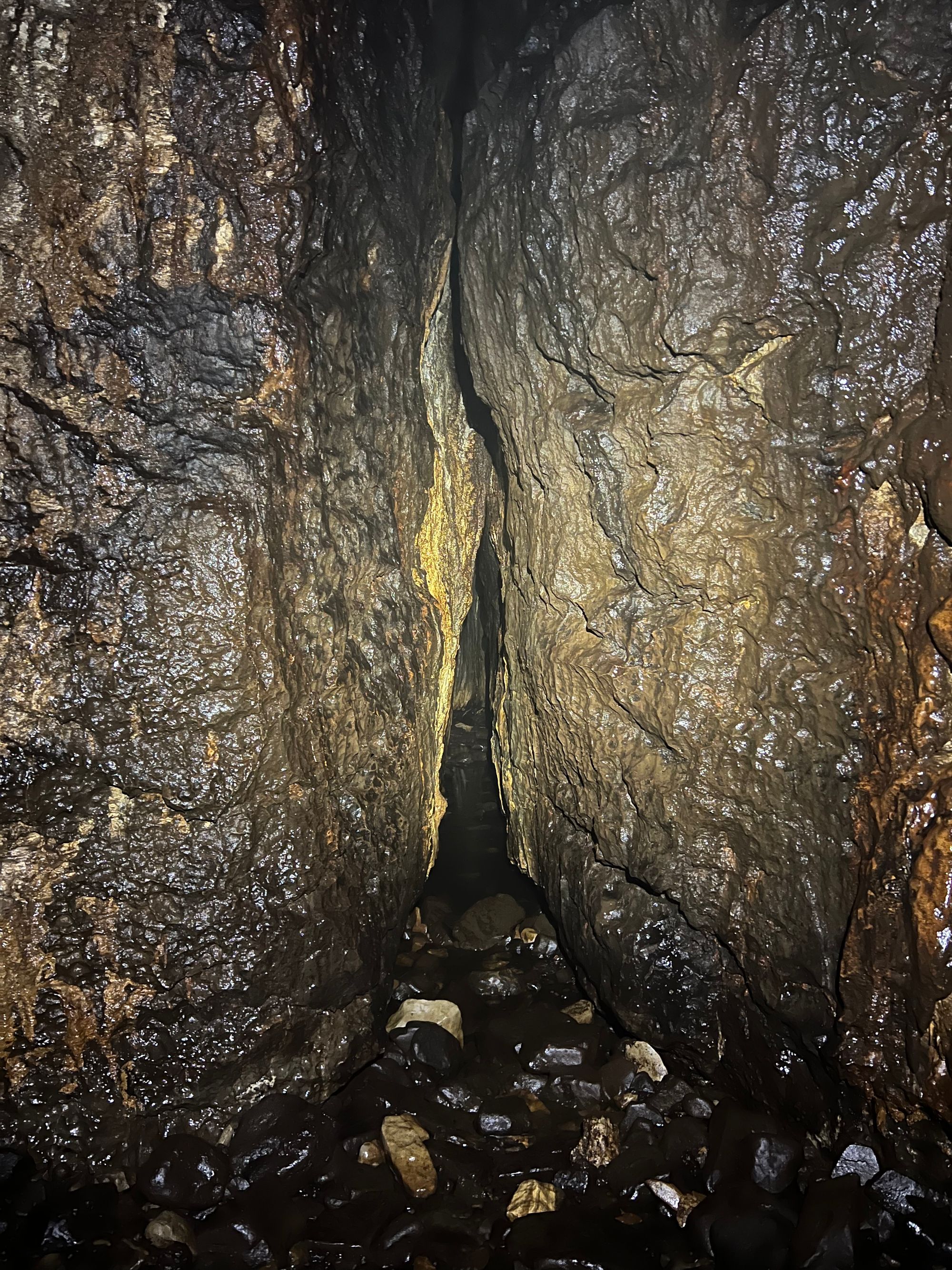 As the water was quite low we did mange to get all the way to the dive line.  The water was quite chilly however so I wasn't hanging around.  "Yep I've touched it" was enough and we quickly turned around back to the pitch
Robin went up first as I was going to de-rig pitch 4 & 3, Robin doing pitch 2 & 1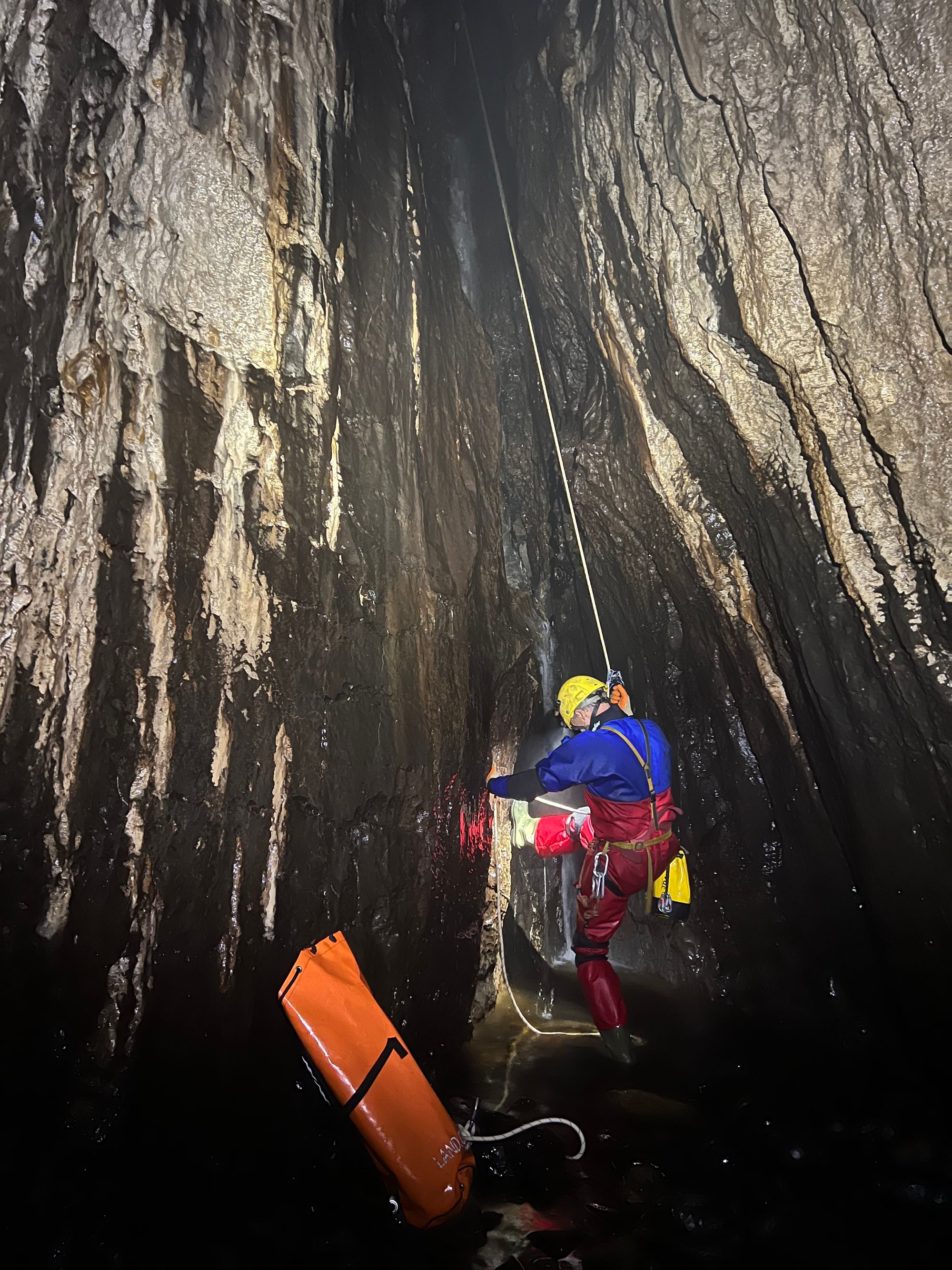 We re-traced our steps, which involved going back through the duck
The further up we went we both started to feel more tired.  The additional weight of wet rope in the bags somehow managing to make the tackle bags snag on every rock sticking out
But, just around 3:45pm we made it back to the surface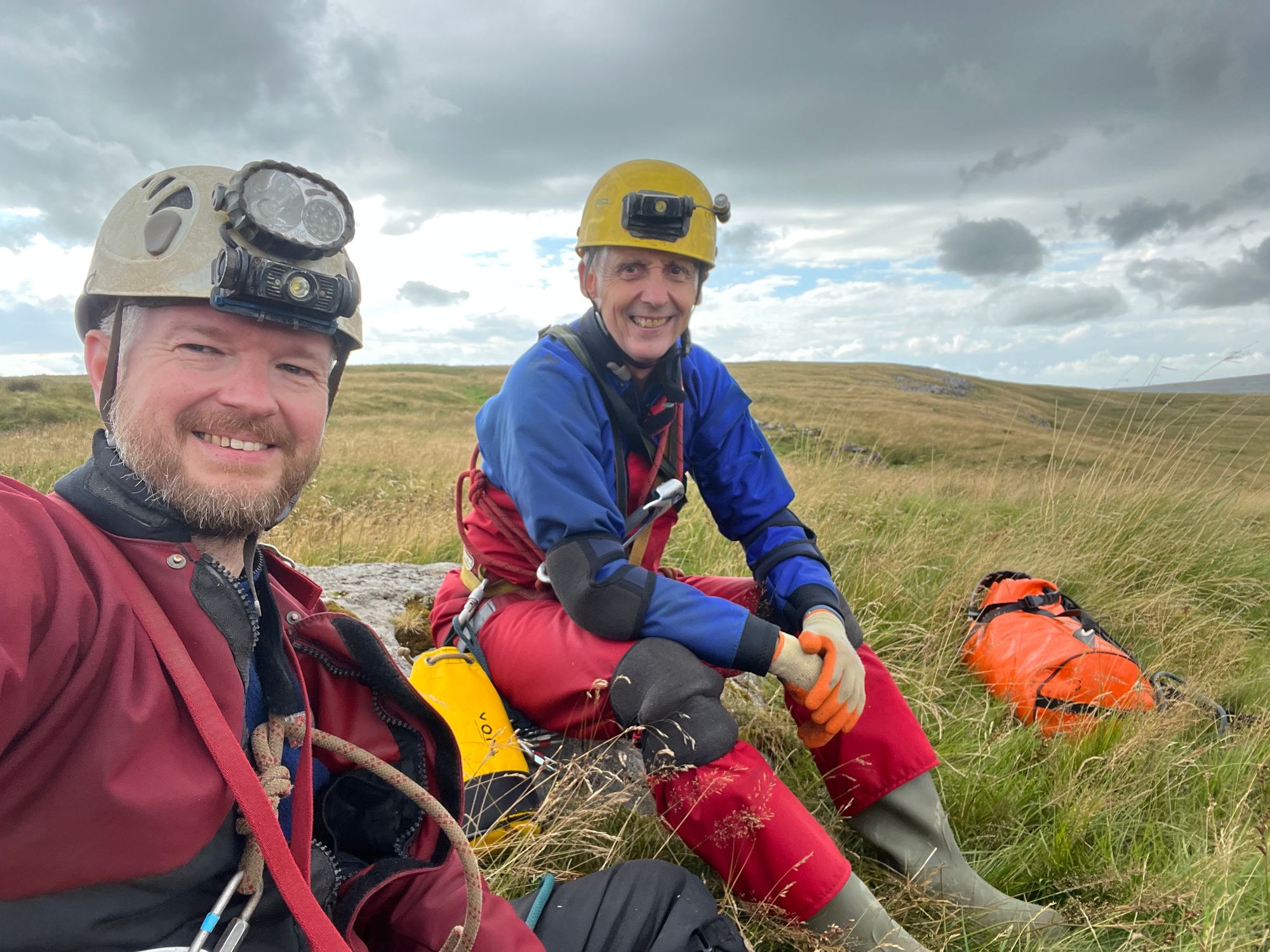 Once changed we headed to the Station Inn for a refreshing pint.  Another enjoyable days caving