| Cave | New Goyden/Thorpe Pot/Goyden |
| --- | --- |
| Date | 27 Nov 2022 |
| Who | Andy, Alasdair, Kate & myself |
Originally scheduled as an open meet, Lost Johns had been put down but there wasn't much availability in a trip on this date other than from new members Alasdair & Kate.  As such, Lost Johns was postponed for a week where more members could go.  But Andy was available and proposed a trip to Goyden/New Goyden water-levels dependent
I had a Christmas do planned for Saturday so originally declared I wouldn't be attending.  But it wasn't as alcohol imbued as I anticipated.  I woke at 7am and felt energetic enough to go caving so a text to Andy "I'm on my way".
Andy had been up the day before and checked out the levels.  However when met him just before 10am the amount of water going into Goyden main entrance made it clear that we wouldn't be doing that trip today.  We put some rocks down as markers of the current levels for comparison later just in case.
Kate & Alasdair turned up shortly after 10 and we chatted about options.  New Goyden was worth a look at, but we suspected we may not get too far.  We kitted up anyway and went for a look
While there were patches of the river with water in, no water was flowing in the bit next to the New Goyden entrance.  Andy went to rig, with Alasdair showing an interest in rigging watching on.  Kate and I follwed in after
We got to the 2nd pitch and Andy went down. He reached the streamway, but it was obvious something wasn't right as he didn't disconnect his stop.  Instead he attached his hand/chest jammers and started prusiking up.  While the water was shallow enough to stand up in in places, it was generally too deep and powerful to be safe to wander around.  We did take it in turns to go down one at a time and look around before coming back up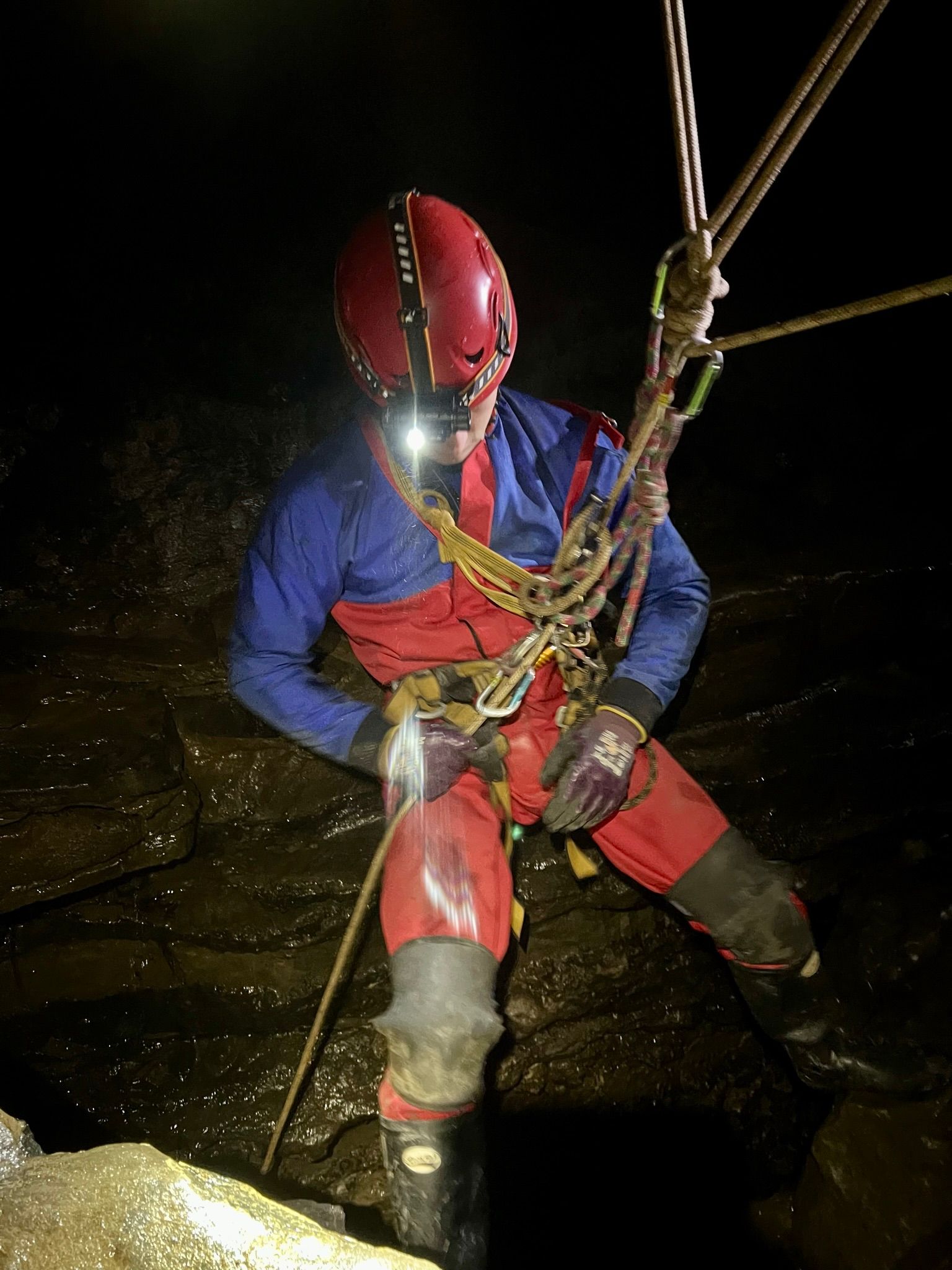 Andy & Kate went out first, as Alasdair de-rigged with me giving pointers as required.  Once out, Andy & Kate went down the nearby Thorpe Pot, finding a good bit of caving (unexpected at the start of the day) to get to the streamway of New Goyden.  Finding it just as powerful, we could only look out at it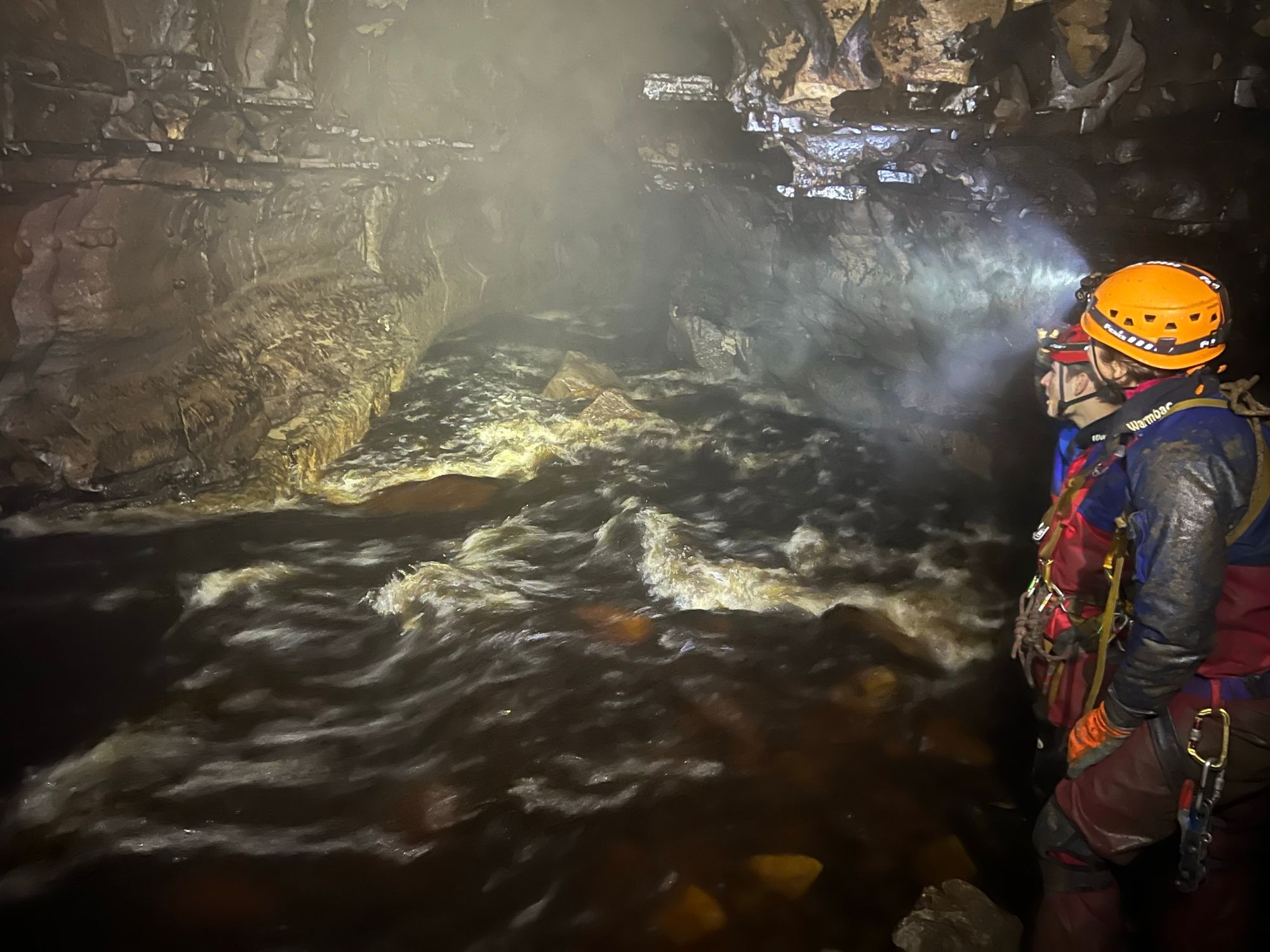 I captured a group shot before we headed back out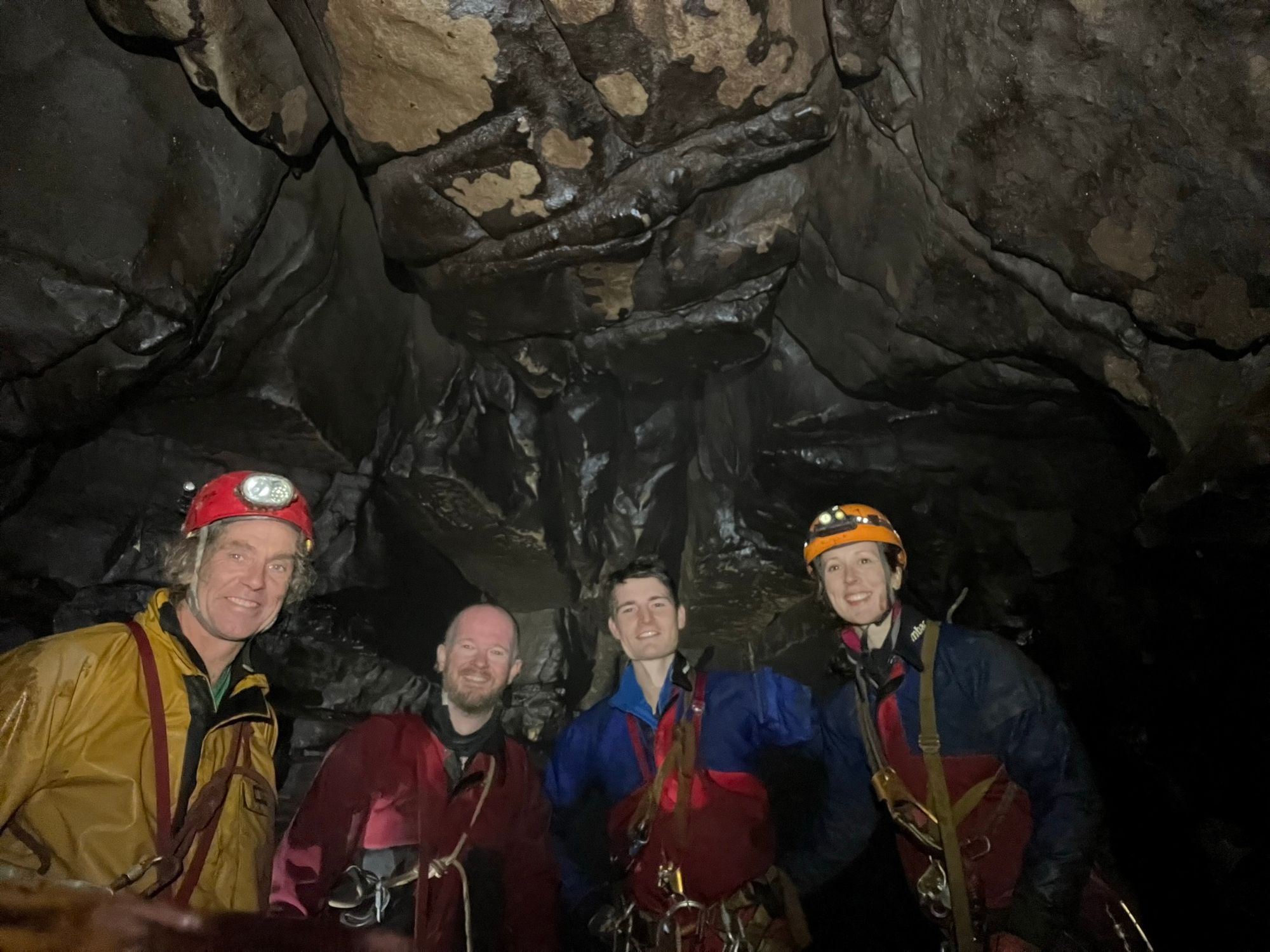 We walked back to Goyden to see if the water level had gone down.  It was obvious from our marker rocks that the level had increased by an inch or so, so the main entrance was a non-starter.  I'd heard there was a side entrance and after finding it, left my kit bag outside and went in to see how far I'd get
It was obvious that it was going somewhere so called up for the others to follow.  We soon found outselves inside the Goyden entrance with the water rushing by to our left.  We walked round to the right and came upon the thundering waterfall.  Sadly my camera was in my kit bag so no pictures from this.  It's a sight that only us have in our minds.
Considering we set out with pretty low expectations, in the end it was a great day caving